†††Before I start this review, I'd like to thank
Everglide
for providing us with these fine products to review.

†††After previously reviewing the
RatPadz GS
, I was eager to review a competitorís solution to the smoothest mouse-pad. Today, I review Everglideís Optical Smoke Attack Set and GIGANTA Optical Smoke mouse-pad. The set includes the Mouse Bungee and a wrist-rest along with the Attack Optical mouse-pad, while the Giganta Optical mouse-pad is just the pad itself.
†††As you can see, there are two different types of the EverGlide Optical mouse surfaces. The Attack, a smaller pad focuses on itís ability to take up little space and how easy it is to transport, while the Giganta is exactly what it says it is, gigantic.
| | | |
| --- | --- | --- |
| The Attack Pad | | The Giganta Pad |
SPECIFICATIONS

Attack Pad
Giganta Pad
Width
10.5"
11.5"
Usable Width
9.5"
10.5"
Height
8"
9.5"
Usable Height
7"
8.5"
Height from Middle
7"
8.5"
Usable Height from Middle
6"
7.75"
| | | |
| --- | --- | --- |
| Size Comparison | | Size Comparison |
†††I already have grown accustomed to my RatPadz GS, so the switch from the GS to the Optical probably isnít as dramatic had I gone from cloth to the Optical. The first day using the EverGlide Mouse pads was grand; every mouse movement was extremely smooth. But after a week or so, it seemed as if the pad was dulling. Being my concerned self, I dug deep into the UPS box in search of instructions. Instead of instructions, I found MouseSkates. A strip of teflon tape used to make the use of the mouse smoother and to increase the life of your mouse feet. After applying the Mouse Skates, it was just like new.

†††I ran the same test on the EverGlide Attack and Giganta that I did on the RatPadz GS. I believe that there was more resistance between my mouse and the EverGlide than there was using the RatPadz GS. However, thatís not a bad thing as you can see the line drawn with the EverGlide pad was much smoother than with the other two pads. The reason, assuming my hand didnít shake as much as with the other pads is that the resistance between the mouse and the pad was so great that it would not recognize small twitchy movements, only big and broad strokes.
| | | | | | |
| --- | --- | --- | --- | --- | --- |
| RatPadz GS | | EverGlide Optical | | Cloth Pad | |
†††Next up in my tests, a few rounds of Counter-Strike. What I noticed was long-ranged and precision shooting was a lot more accurate using the EverGlide Optical pads. But in close and cluttered gun-battles, it was a lot harder to make the quick movements and get shots off in multiple directions at a moderately fast speed. Depending on your CS tactics, this mouse-pad may or may not benefit your game.
†††EverGlide recently dropped the prices on their whole product line of mouse accessories, so you can now pick up a pad at a moderate price. Iíll probably be sticking to the RatPadz GS, but the EverGlide Optical pads are a great alternative.

†††Iíve always pondered what a Mouse Bungee did. Today, I found out. If you are not lucky enough to own a cordless mouse, then chances are youíve death with cord snagging. Youíre in an intense last round of your favorite First-Person-Shooter game, you try to turn around and get your last frag, but you canít. Your mouse cord is stuck behind your desk, causing a snag. To get rid of the snag, you tug effortlessly on your mouse, but itís too late. Your opponent has killed you and youíve lost.
| | | |
| --- | --- | --- |
| The Mouse Bungee | | The Mouse Bungee |
†††Alright, so that may not be the case every time, but mouse snags are annoying. The Mouse Bungee aims to fix this problem. The Bungee is a simple device; itís practically a glorified paper weight with springs. To use the Mouse Bungee, you take the mouse cord and thread it through a few of the little locks, leaving a few inches of the mouse cord for max performance. The instructions recommend 6".
| | | |
| --- | --- | --- |
| Clip here | | and here |
†††The competition, my Ti-86 Graphing Calculator. After previously experiencing snags very frequently, both the Mouse Bungee and my Ti-86 eliminated all snags. Granted though, there might come a time where I may have to use my Ti-86 and could no longer act as my makeshift Mouse Bungee. There is an advantage of using my Ti-86 though, it rarely budges. The same can not be said for the Mouse Bungee.
†††In vain, the Mouse Bungee was a great idea that can be manipulated for free. It opened our eyes to mouse snagging and offered a solution. Albeit, not the greatest or cheapest solution, seeing as a calculator performs almost the same.

†††And finally, we bring you the last part of the set, the all mighty wrist-rest. Made of a soft vinyl and filled with a hard gel, this provides excellent support for your wrist when you arenít doing stuff that focuses you to budget your time. Itís great for leisure web browsing, when your wrist starts to go limp. In any pressured situation, the wrist rest just seems to get in the way.
| | | |
| --- | --- | --- |
| Attack Combo | | Giganta Combo |
†††The portability of the Attack pad and the fact that it doesnít take up a lot of desk space is nice, I believe that itís just simply too small for anything. The Giganta is as big, if not bigger than the RatPadz GS and offers plenty of surface area for mouse movement; but simply can not compare with the RatPadz GS and some Pledge. The Mouse Bungee opened our eyes to a solution for mouse-snags, but a rock will also suffice. And at last, the wrist-pad is great half the time, and an interference the other half. I would recommend this kit to anyone who a) has a corded mouse or b) is anti RatPadz. Itís great for the casual gamer and web surfer.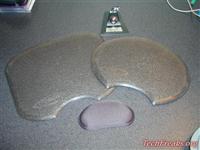 This all cost $74.64 (yikes!)
Pros:



Various Surface Sizes
Bungee Prevents Snags
Cons:



Expensive
Not the best solution